Forex GOLD Investor consists of 2 trading systems. The first one is based on scalping trading strategy and the second system has time based dependency which opens up to 2 trades at a time. It has been tested rigorously to get the most successful results. You don't need to do any optimizations if you use the default settings.
Best Forex Robot in Forex Market - Forex GOLD Investor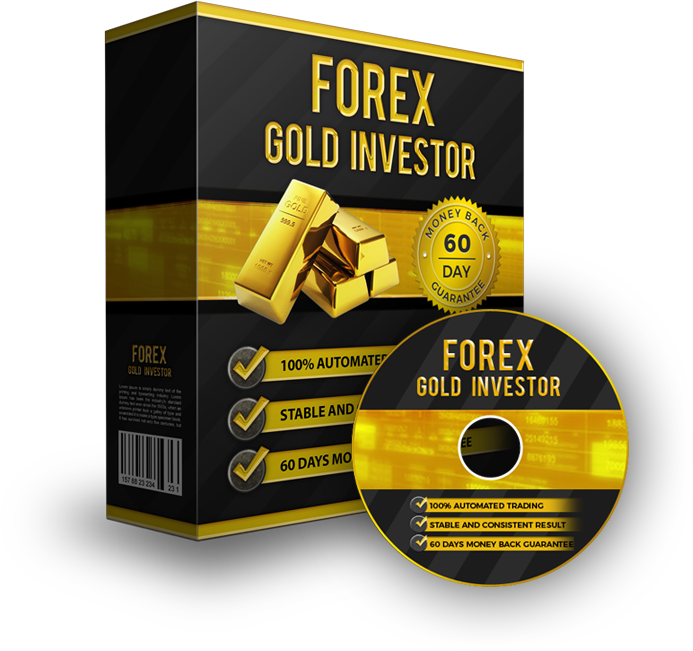 Forex GOLD Investor is one of the best expert advisors developed to trade on GOLD(XAUUSD) in the forex market. Having 2 trading systems will allow you to choose the one that suits you best or you can use both strategies at once which will increase the trading activity. It is robust forex robot and easy to use, and install. In case, you have difficulties or issues you can contact us
In addition, Forex GOLD Investor has very strong and useful systems integrated such as intelligent money management system which protects your profits,precise entry and exit trading algorithms, drawdown protection system and etc.
This expert advisor is intelligent EA and it automatically recognizes whether your broker offers four- or five-digit quotes. You don't need to change any settings. If your broker offers five-digit quotes, you don't have to multiply TakeProfit and StopLoss values by 10.
Forex GOLD Investor robot supports only GOLD(XAUSD), but in the future support of Silver (XAGUSD) can be expected. We recommend using riskbetween 1%-2%.For example, if you have a USD 10,000 account free margin, then:
If AutoMM=0, the EA will trade with volume = parameter FixedLots (defaults FixedLots=0.01 for safety reasons)
If AutoMM=2 (2 percent risk) the EA will open 0.2 lot positions (20,000)
If AutoMM=5 (5 percent risk) the EA will open 0.5 lot positions (50,000)
If AutoMM=10 (10 percent risk) the EA will open 1.0 lot positions (100,000)
Live Performance on a FULLY Verified Myfxbook Account
Forex GOLD Investor
REAL MONEY

Account
Live Performance on a FULLY Verified Myfxbook Account
Traders can download and use Forex GOLD Investor in Metatrader 4 trading platforms and on Windows OS. It is compatible with all the brokers and account types, including ECN brokers. It also supports NFA(FIFO) regulated forex brokers. Last but not least, you can use it with brokers with 4 or 5 digits.
If you want to check the robot's performance you can have a look at the backtests of the robot as well or you can do backtest by yourself. In order to do backtests you have to be a member of Forex Diamond, so you can purchase the robot and start using it. Click here to buy it now.
Check Out These Results and See How
Forex GOLD Investor

Gets

Market Beating Results

Every Trading Session
Forex GOLD Investor
Our forex robot, Forex GOLD Investor, has trading system which is time based, therefore GMG Offset is really important. In order to set correct GMT Offset you can read more here How to set correct GMT Offset in Forex GOLD Investor
GMT means Greenwich Mean Time also called Coordinated Universal Time, shortly UTC. The differentce in time between local time and GMT(UTC) is called GMT Offset.
GMT offset is really important because of the different location of the brokers around the world. As you know, the brokers may locate in different countries and they have their own GMT Offset times. For example some brokers may have +3 GMT Offset and some of them may have GMT +1. Therefore, it is essential to set correct GMT Offset in the forex robot's settings. If you miss that the robot may not be able to detect the correct time while trading, when to start/stop trading. Therefore, this will affect their performances negatively.
Our forex robot has parameter which is called DST_Usage. We have developed this parameter to calculate the daylight saving time(DST), which is the practice of advancing clocks during the summer months by one hour so that evening daylight lasts an hour longer. Basically, the regions with summer time adjust clocks forward one hour in the last week of March and adjust them backward in the last week of October to standard time. Most of the cases, expert advisors change their GMT Offset during summer and as a result it is also important to know that and set it correctly in the settings.
For Forex GOLD Investor the time is very important factor. If you set wrong GMT offset then the results could be unexpected. Please read the instructions below:
AutoGMT_Offset true/false - Change to false only if you want to use the
ManualGMT_Offset in your live trading. In this case, please ensure that you have used the correct ManualGMT_Offset for your broker.
ManualGMT_Offset - For this parameter you have to set the winter GMT offset of your broker. This parameter is very important in case that you have disabled the AutoGMT_Offset=false and when you backtest the Forex GOLD Investor. If you set wrong value, then you may get unexpected results.
DST_Usage true/false - If your broker shifts the GMT_Offset with +1 hour in the end of March and change it back in the end of October, you should set DST_Usage=true for live trading. This is important for the correct functioning of the second trading system (System2).